KWC - Colt M1911, A1 Anniversary
---
KWC - Colt M1911, A1 Anniversary
This is a Co2 Blowback version of the popular 1911 hand gun. This version is made by KWC, and it's a great gun that I personally like to use. Only thing to really put my finger on is the plastic grip sides, and the hop-up unit that's not performing optimally.




First you pull back the side to where you can pull out the locking pin (There's a small indent in the slide letting it out). In the back of the slide there's a screw holding the cylinder and housing.




Pull the slide spring guide forwards and down to remove it and the spring. then the front spring retainer should be pulled out. The front barrel lock should be turned around 20 degrees and the slide it out. And now you can remove both the inner and outer barrel.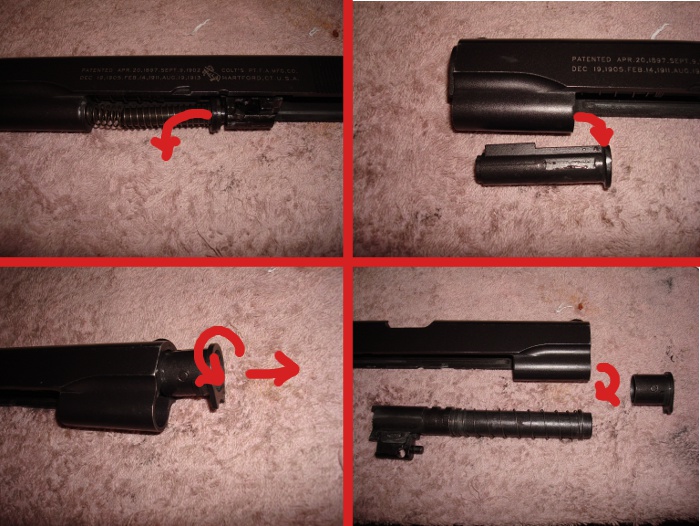 Lift off the outer barrel from the hop-up unit. Remove the 2 screws and pup it open.
The hop-up unit's housing (With the pin on the side) is pressed together with the outer barrel end. So what you doo is take 2 pliers and jently twist the 2 parts untill the pin is free. It takes a good ammount of force (More than you can apply with your bare hands, so you will need pliers), but increase the force slowly otherwise you risk breaking it.




Now for the lower gun part. First remove the grip sides by the 2 screws on each one. Push and turn to unlock the mag catch mechanism. Un-tab the bottom handle pin holding the hammer spring. (This is where you add spacers to doo the Hammer spring improvement mod ). Remove the metal "spring metal" plate that pushes the metal parts back in place after each shot.




Remove the safety switch pin, and also be careful not to lose the "click" rod and spring. Now the back handle safety comes off. And now you can really see how the "spring metal" plate removed earlier should be placed when re assembling. Inside the gun you will find a small screw. And a pin holding the hammer also locks the inner trigger assembly in place.




After popping (1 screw) open the inner trigger, you can see how it's assembled. And now you can also remove the trigger itself if you want to. And that's it. A fully disassembled gun.




I recommend modding: Air sealing, Barrel stabilization, and Co2 gun hammer spring